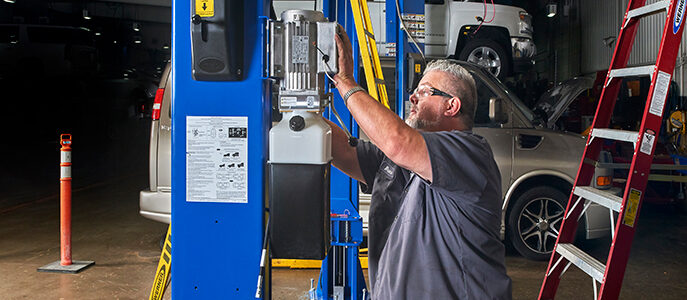 Why Trust Your Rotary Lift Installation to Allied
Automotive lifts are designed to hold vehicles that weigh thousands of pounds. If they're not properly installed, it could lead to imbalances in the columns and issues with safety features on the lift, resulting in severe injuries to technicians who have to work underneath these lifts.
While there are some automotive lifts, including drive-ons, that seem easy to install, there are many factors that must be considered during the installation process. For example, is the concrete thick enough for the installation? Are there runway stops and chocks on the lift to prevent unwanted and dangerous vehicle movement?
For the safety of your technicians, you must work with professionals who are experienced in handling automotive lift installations. Furthermore, because not all automotive lifts are designed the same way, you need authorized professionals with experience installing lifts made by specific manufacturers.
Allied, Inc. is proud to be an authorized Rotary Lift® installation provider in Michigan. In addition to installations, we provide ALI-certified inspections and ongoing support services, including repairs and maintenance work.
50+ Years of Installation Experience
Allied has provided knowledgeable support and reliable automotive lift installations across Michigan for over five decades. We understand that there are many Rotary Lift models available on the market, so we can also help you select the best one for your present and future needs. If you're designing a new shop or expanding your current facility, we can also help you incorporate automotive lifts into your design. Our goal is to deliver 100% customer satisfaction from start to finish.
Certified Inspections
Every inspector on our team is certified by the Automotive Lift Institute (ALI). An ALI certification means that a company has met or exceeded a comprehensive list of criteria involving the integrity and safety of all systems, components, load-holding devices, and quality control measures and proves the expertise and professionalism of our technicians.
After every installation, we perform a thorough inspection to ensure your lift meets MIOSHA requirements. We'll also provide you with inspection documents you can keep on file. In addition to post-installation inspections, we can provide ongoing annual inspections to ensure your lift continues to perform optimally.
Quality Repairs & Ongoing Support
Our commitment to quality doesn't stop after the installation. We want to ensure that you get the most out of your lift. There is a wide range of problems that could occur just from frequent use, including hydraulic leaks, low fluid, and damaged pumps or valves. You can count on our authorized and certified technicians for annual inspections and maintenance work—we can even sign you up for our preventative maintenance program, so you'll always get reminders when maintenance work is due. If we find anything that could impact the performance of your lift, we'll provide same-day repairs if possible.
We can service all Rotary Lift models, and other makes and models from other manufacturers, including Bend Pak. If you need replacement components for your lift, we keep our inventory well-stocked with OEM replacements.
Let Allied Install & Service Your Rotary® Lift
Avoid costly repairs and safety risks by letting Allied handle your Rotary Lift installation. Our ALI-certified installers and authorized technicians will ensure every part of your lift is functioning optimally and will continue to support you even after the installation.
Contact us today to learn more about our services and capabilities or to schedule your installation.