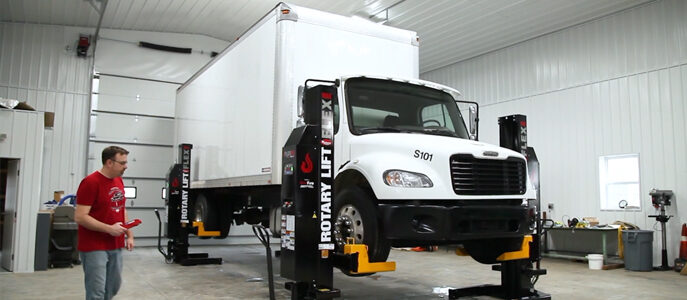 Heavy-Duty Truck Lift Buying Guide: Two-Post or Four-Post?
A heavy-duty truck is a must-have for any shop owner. It not only helps keep your technicians safe, but can also increase productivity. Most truck lifts have a wide array of safety features, are easy to operate, and are suitable for many different spaces. 
When shopping for heavy-duty truck lifts, you may find yourself overwhelmed by how many options are available to you on the market. In this guide, we'll highlight some of our favorite two- and four-post lifts and leave you with some advice on how to select the right one for your shop.
Two-Post Lifts
A two-post lift only has two columns and is great for shops with lower ceiling clearances, but is not as strong as four-post lifts. Our recommendations for two-post lists include the MOD235FLEX™, SPO20, and SPO16.
MOD235 FLEX™ Modular Inground Lift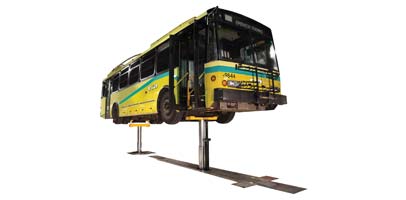 The MOD235 FLEX™ is an ALI Gold-certified modular inground two-post lift that's powered by two 5 HP motors. It has a capacity of 70,000 pounds and a rise of 70 inches. This truck lift offers multiple control options, including remote control (Red Fire™), pendant control at the unit, or control from a console unit. This lift also features a patented universal saddle adapter that allows you to choose from ultra-low profile, low profile, T-style, and tall rear. 
The MOD235 is also coated with EnviroGuard™, which helps protect all steel components against rust or corrosion. To further protect the lift, there is also a patented Liquid Detection System, which signals when there is liquid accumulating in the containment area.
The power system of the MOD235 was specifically designed for quiet operation; each power unit in the MOD235 is in a fully contained environment that also protects it from soil and grease contamination.
Lastly, if choosing the Red Fire™ remote control option, you'll benefit from a wide array of safety features, including a single lower-to-lock button, Press Protect™, which prevents accidental button presses, and easy E-stop control.
SPO20 Rotary Symmetric Lift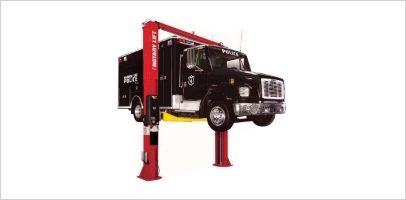 This ALI Gold-certified versatile lift is designed to hold class 1 through 5 vehicles. There are four major configurations of this lift (standard, low ceiling, cargo, and cargo low ceiling), and the option for either three-stage TRIO™ arms or conventional three-stage arms. Depending on the model, the SPO20 can carry up to 20,000 pounds.
The patented TRIO™ Arm Design allows easy retraction and extension of the arms to offer an additional 22% reach compared to conventional arms.
The SPO20 also comes equipped with a number of technician-assistance tools, and all adapters, extensions, and spotting dishes are included with the lift.
If you're looking for faster rises and descents, consider adding Shockwave™, a patent-pending technology that helps produce faster cycle times. Additionally, Shockwave™ is battery-powered so will remain online even if the power goes out.
SPO16 Rotary Symmetric Lift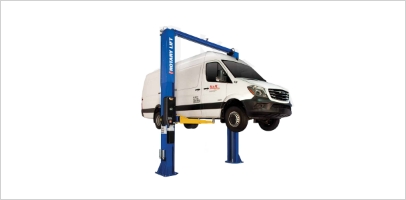 The SPO16 is very similar to the SPO20, except that it has a 16,000-pound capacity. It can still handle class 5 vehicles, but it will not carry as much weight as the SPO20. The SPO16 also comes in a variety of models to suit both low and standard ceiling clearances and narrow and wide drive-thru widths. 
Just like the SPO20, the SPO16 also includes the following features:
Three-Stage TRIO™ Arms
Automatic Arm Restraints
Single-Point Air Lock Release
Multi-Position Locking System
"Double S" Column Construction
Clear Floor Design
Shockwave™ Optional Add-on
Four-Post Lifts
The main difference between two-post and four-post lifts is the number of columns that they have. Four-post lifts have four columns and take up more space when compared to two-post lifts. If you have more open space in your shop, you may want to consider a four-post lift, especially because they are capable of handling many heavy-duty vehicles without the use of anchors. However, keep in mind that for 11,000 to 15,000-pound lifts, a minimum concrete floor thickness of 6 inches is recommended, while lifts with greater capacities require an 8-inch concrete slab. 
The four-post lifts that we recommend include the SM30, HDC36, and HDC50-60.
SM30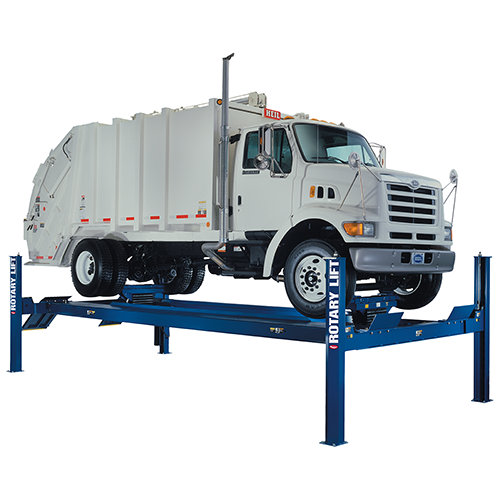 The SM30 four-post lift offers unrestricted access to the undercarriage of commercial trucks that weigh up to 30,000 pounds. You'll want to measure your available floor space, as it has an overall width of 12 feet and 4.8125 inches and an overall length of 31 feet and 9.5 inches when fully extended.
This heavy-duty truck lift can be modified with options such as Three-Phase Lift Power, Drive-Thru Lift Conversion, and Alignment Conversion Kits that allow you to convert a general service truck lift into a wheel alignment rack.
HDC36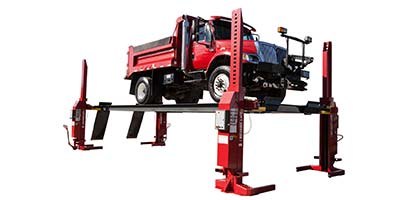 The HDC36 is a more powerful heavy-duty truck lift. It has a total lift capacity of 35,900 lbs. The 28-inch runway can handle tractor and trailer tire widths, while the folding ramps with automatic chocks will prevent any runaway conditions. The HDC36 has a column height of 89 inches at full rise, and it only takes 68 seconds to reach full height.
The HDC36 is also equipped with a column-mounted control panel for visual confirmation of the lift's status. For repeated lifting of similar trucks, the unit features position memory settings and allows for the lift columns to be leveled within one inch of each other.
HDC50-60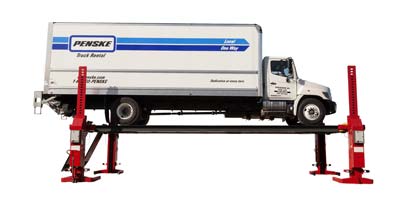 For the heaviest of truck lifting operations, consider the HDC50 or HDC 60 heavy-duty truck lifts. The HDC50 has a lift capacity of 50,000 pounds while the HDC60 has a 60,000-pound capacity. Both only take 65 seconds to reach the full rise position (78 inches).
Both models also have controls that are located at each column, allowing for easy operation from any location. The lift controls are easy-to-use, and if the power fails during a work session, the powerful DC battery will keep the unit running. Consider adding the optional wheel kit for portability, allowing you to reposition the lift anywhere in your bay.
Determining Your Lift Needs
As previously mentioned, the type of lift that you need depends on the vehicles that your shop is servicing as well as the space you're working with. You'll also want to consider your floor's current thickness—if it's not thick enough, it won't be able to support the lift.
In general, four-post lifts are ideal for shops that rely on portability, but they do take up more space. On the other hand, two-post lifts are recommended for shops with lower ceiling clearances or smaller spaces, but they must be anchored down.
When shopping for lifts, be sure to double-check product specifications and installation requirements.
Find the Right Lift With Help From Allied
If you're looking to partner with a long-term supplier of heavy-duty truck lifts, turn to Allied. We sell, install, maintain, and repair vehicle service equipment for auto dealerships, service garages, and fleet operators. 
If you have questions about heavy-duty truck lifts or need help selecting the right one for your shop, please fill out our online form today, and one of our representatives will be in touch with you shortly.