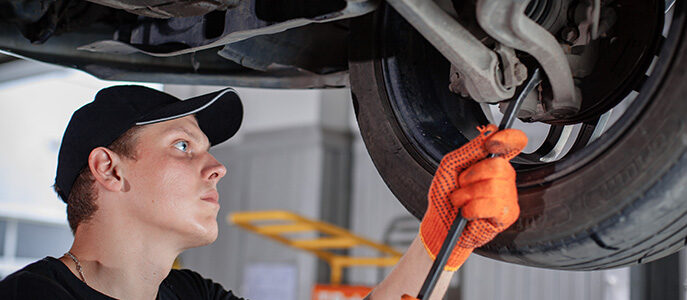 Shopping Guide: Choosing the Right Four-Post Lift
Are you a shop owner looking to expand your auto-lifting capabilities? If so, it's important that you choose the correct equipment to meet your needs. If you're not sure where to start, our team at Allied, Inc. is here to provide you with the expert advice that you need.
In this article, we'll highlight the top factors you need to consider when researching four-post lifts.
Factor #1: Location & Space
Be sure that your garage or workspace has sufficient room to accommodate the four-post drive-on lift you're considering. Heightwise, you'll typically be in good shape for most lifts as long as you have at least 12 feet of ceiling space. When compared to a post with two lifts, a four-post lift is the better option for shops with lower ceiling clearances.
You'll also want to be sure your technicians have enough room to freely move around—you don't want your lift to be a tight fit. With four-post lifts, you'll want to be sure you have at least 112 inches in width; if you're working with a tighter width, you may want to opt for a two-post lift instead.
Factor #2: Type of Work
The type of work your shop does the most will affect what type of lift you need. While four-post lifts are capable of a diverse range of functions, they typically contain extra-supportive cross beams. Some four-post lifts may even feature a support bed that the wheels rest on. This makes wheel-based work, like performing alignments, impossible without additional specialty equipment. In addition to focusing on the work your shop is performing currently, you'll also want to consider which services you want to offer to your customers in the future.
Typically, if you're looking to work with heavy-duty vehicles, you'll definitely need a four-post lift. If you're working on light-duty vehicles under 9,000 pounds, you may want to choose a two-post lift.
Factor #3: Capacity
The capacity of a four-post drive lift also matters. You'll want to think about the most common types of vehicles that you service, and if there are any vehicles you'd want to service in the future.
Four-post lifts range in weight capacities from about 9,000 pounds at the low end up to 60,000 pounds at the high end. And, more lifting power often means a higher price tag. You'll also want to consider the space you're working with—four-post lifts with higher load capacities often take up more space. Do you have room in your current shop or will you need to expand? If you're already expanding your space, how much extra room do you have?
Factor #4: Reliability & Safety
Lastly, if a four-post drive-on lift in your shop mechanically fails, it will cause downtime, and more importantly, increase risks of bodily and property damage. That's why it's important to choose a lift manufacturer with a proven reputation for reliable and safe products. When purchasing a four-post lift, or any other type of lift, you'll always want to make sure it's ALI-certified. The American Lift Institute only awards ALI certifications to lifts that meet their stringent quality standards.
Find the Right Four-Post Lift With Help From Allied
Allied, Inc. is proud to be a top automotive lift supplier in Michigan. We carry a wide range of ALI-certified four-post lifts from brands like Rotary® Lift and Hunters. We even staff a factory-authorized team of technicians who can help you install and even repair and maintain your lifts. You can browse our full line of products here.
If you have questions about our products or need help selecting the right lift for your shop, contact us today to speak with one of our professionals.