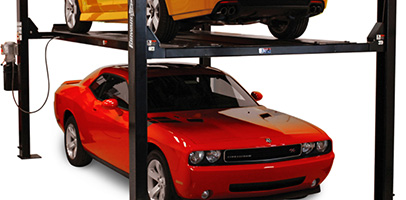 Selecting the Right Lift for Your Home Garage
Did you know that you can install a car lift into your home garage? There are only a few requirements: a) you must have enough garage floor space for at least one vehicle, b) a ceiling height of at least 10 feet, and c) a full-sized garage door.
In this article, we'll explore the many benefits of having a car lift in your home garage, the different types of car lifts, and how to select the best one for your space.
Why Get a Car Lift?
First, most homes feature a one-car garage. Demolishing your existing garage to build a new, larger two-car garage would certainly be more expensive; installing a car lift in your home garage not only helps you save money, but can also potentially increase the value of your home. Additionally, car lifts are practical solutions to garages with limited space because they allow you to take advantage of any unused overhead or vertical space.
If you do repair or maintenance work on your vehicle or any other type of equipment, a lift will make it easier (and safer) to do this type of work.
Lastly, a car lift can also open up storage space in your garage. Whether you need to store a sports car during off-season or lawn equipment, you'll find that a car lift will give you all of the extra space that you need.
Types of Car Lifts
If you're seriously considering a car lift for your home garage, you should know that there are two major types to consider: two-post and four-post.
During your own research, if you find information related to single-post car lifts, know that they are rarely used in home garages today. They may seem like space-saving solutions, but they often require a massive side-column to support the weight of a vehicle. And, if overloaded or loaded incorrectly, these cantilever-styled car lifts can present a significant safety risk.
Let's take a look at some of the safer options available on the market.
Two-Post Lifts
Typically, two-post car lifts are the best option for smaller home garages, but they usually support less weight when compared to four-post lifts. As the name suggests, a two-post lift only has two posts with a midsection that is designed to support the vehicle's frame. Ceiling height requirements for this type of lift are usually lower (18 inches or less) because the vehicle's wheels fall below the supporting beam of the lift.
You may also want to consider a car lift with telescoping, three-stage arms, which provide a greater range of extension and retraction. There are also car lift models specifically designed to carry the weight of small SUVs and lightweight pick-up trucks.
Four-Post Lifts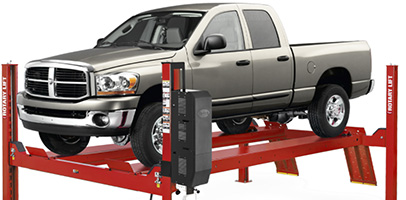 While you may not save as much vertical space in your home garage with a four-post car lift, it does have an open design that allows for easier access to the entire undercarriage (with limited wheel access) during maintenance and repairs. Also, a four-post car lift can safely handle heavy-duty lifting of larger SUVs and small trucks.
While all two-post car lifts need to be securely anchored to the garage floor, most four-post lifts don't need anchors. This means that if your garage floor can be easily damaged, then a four-post car lift is a better choice for your home garage because it offers better overall stability and a more even weight distribution.
Preparing Your Garage for a Lift
When selecting either a four-post or two-post car lift for your home garage, be sure you know what available floor space you're working with as well as ceiling clearances and floor thickness. In general, four inches is the minimum allowed concrete thickness for passenger vehicles, while six inches is the recommended thickness for SUVs and trucks. For safety, it's a good idea to exceed the minimum concrete strength and depth guidelines—a stronger, thicker concrete floor is always better.
Once you've purchased the right lift, you'll need to prepare your garage for the installation.
First, make sure the garage floor surface does not slope. If there is a slope, you'll most likely have to pour a new slab (if the slope is severe) or level it with shims. When pouring a new slab, know that you have to let it cure for at least 30 days. Next, you'll need to reinforce your concrete to prevent cracking. Once your floor is reinforced, you're ready to install your car lift. Be sure to follow manufacturer instructions or hire a professional to help you with the installation.
Find the Right Lift With Help From Allied
The best car lift for any home garage should be engineered for safety, designed with a small footprint, and have the proper lifting capacity for the weight of your vehicles. If you have questions about lifts for home garages or need help find the right product, turn to Allied. 
We're one of the top suppliers of automotive lifts in Michigan. Our team will not only help you find the right solution for your garage, but also help you install it. Fill out our online form today to request our installation services or to speak with one of our experts.