Selecting the Best Tire Changer for Your Auto Shop
The tire changing machine is a fundamental piece of equipment in every automotive shop and makes a basic difference in the quality of services available.
While you already know the importance of choosing the most cost-effective and durable tools and equipment for your shop, the selection process can be challenging and overwhelming because there are so many products on the market. Of course, price and maintenance costs are all essential considerations, but so is matching the equipment with your existing and future needs.
In this blog post, we'll cover the primary factors you need to consider when selecting the best tire changer for your shop and highlight our favorite products on the market. Prepare to save time, stress, and money!
Understand What Type You Need
Many types of tire changers are available, each best suited for individual circumstances and situations. Institutional fleet service centers, high-volume car and truck dealerships, small-town repair shops, and home-based enthusiasts all require different features in their tire changers.
Choosing the best tire changer for your needs will be largely based on the types and sizes of wheels your shop will be servicing now and in the future.
Let's take a closer look at some of the different types of tire changers.
Leverless
Leverless tire changers are designed to make life easy for the technicians who use them. They automate various tire-changing processes, providing safe, largely hands-free operation.
This type of changer works rapidly and causes little risk of wheel damage. Leverless units are also excellent for changing Ultra High Performance (UHP) and run-flat tires.
Additionally, they are loaded with production-boosting features, like no-touch bead breakers, pneumatic wheel lifters, and sight-assist cameras. While there's a bit more of a learning curve with this type of mounting machine, the increased long-term production makes it worth the investment.
Tilt-Tower
Low-profile wheel and tire combinations can be challenging for automotive techs to work on. Tilt-tower tire changers simplify the mounting process with a lean-back foot pedal-operated head assembly. This type of machine makes it easy and fast to position even the largest tires on the turntable, and they're well-suited for high-volume operations.
Once you set the position, it stays there until reset, which is convenient when changing multiple same-sized tires. They also reduce lifting and possible injury to workers and damage to wheels.
Swing-Arm
Swing-arm tire changers are more complex to operate than leverless and tilt tower changers. They require more involvement from the operator, which slows down the unmounting and mounting procedures and increases the risk of human injury and wheel damage.
The primary drawback here is that the arm needs reset after servicing each wheel, making this type of changer better suited for low-to-mid-volume shops. On the positive side, this style of machine is the most affordable, making it a smart choice for new repair shop owners to build their businesses with.
Motorcycle
A motorcycle tire changing machine is much less complex than an automotive unit. They feature simple setups, typically composed of manually powered rim clamps and a basic bead loosening system. These changers can also be used for ATV tires, are quite affordable, and make solid add-ons to your service offerings. Even if you don't specialize in motorcycle repair, this type of tire mounter can open up a new business avenue for any service shop.
Center Post/Center Clamp
If you want a fast, precise, safe, and efficient tire changer, a center post model might be your best option. They're designed with ease of use in mind, so that most technicians can operate them with minimal training time needed. This type of tire changer is also well-suited for high-volume repair shops, holds most wheel sizes, and enables single-technician operation with little risk of wheel damage.
Heavy-Duty
Heavy-duty tire changing machines are used on wheels up to 58 inches and tires up to 91 inches in diameter and more than 40 inches wide. They typically feature extra powerful bead breaking force, no-return valves, and double-reinforced steel framing.
These extra-large and strong machines are needed to mount and unmount tires for semi-trucks, heavy-duty commercial vehicles, and large farming machinery. Unless you specialize in heavy-duty vehicle servicing or plan to in the future, you probably won't need this type of tire changer in your shop.
Electric Versus Pneumatic
You'll find that most manufacturers offer electric and pneumatic tire changing machines. There are advantages and disadvantages to each. In general, electric machines run quietly, cost less to operate, and are easier to repair. Noisier pneumatic tire machines tend to cost more to operate and repair. However, they do typically offer adjustable power control, whereas most electric machines are either "ON" or "OFF."
Voltage
Some models of tire mounting machines operate with 110 volts, and others with 220. 110-volt changers are simpler to install and don't typically require any special electrical work before installation. 220-volt changers offer more power than 110V models, which can be important in shops that service a lot of run-flat and other low-profile tires. Essentially, if your shop already has an electric system to support it, a 220-volt changer makes sense as it will handle a greater variety of tasks.
Ease of Use
For long-term technician safety and shop profit, it's important to select a tire mounter that is simple to understand and operate. Reputable manufacturers provide detailed training manuals and video instruction, and some even offer on-site training. The goal is to choose a machine that your technicians can learn to operate quickly and is safe for the operators and the wheels being serviced.
Pricing
Although you should create a budget when selecting automotive shop equipment, don't make the common mistake of thinking that the priciest tire changing machine is the best one or that a less expensive model won't deliver the performance and efficiency you need to meet your production goals.
Pricing may be an important consideration, but it's important to select the tire changer that best meets the production needs of your shop. The most expensive machines have high-tech features that require more training to understand and use safely. Plus, you may not even need these fancy sell points to begin with unless you service a lot of high-performance tires and rims.
Besides your budget, some smart considerations include the side shovel's durability, size and weight, included and optional features, torque rating, and maintenance requirements.
Brand Reputation
Lastly, research the manufacturer of any tire changing machine you're considering. The best companies offer excellent product warranty coverage and have superior status to their current and past customers.
Additionally, notice where the manufacturer's headquarters are located. Are they in the United States or overseas? Buying from U.S.-based manufacturers generally means better quality and faster delivery times.
Our Recommendations
Allied Equipment has helped automotive shop owners, auto dealers, and fleet repair center managers since 1963. We supply and sell high-quality equipment, including vehicle lifts, wheel balancers, tire changers, brake lathes, and air compressors, from trusted brands on the market.
Based on our experience, we highly recommend Hunter brand tire changers for their durability, ease of use, reliability, and pricing. Our favorite tire changers by Hunter include the Auto 34R, TC39, TCX51, TCX58, and TCX635HD.
Auto 34R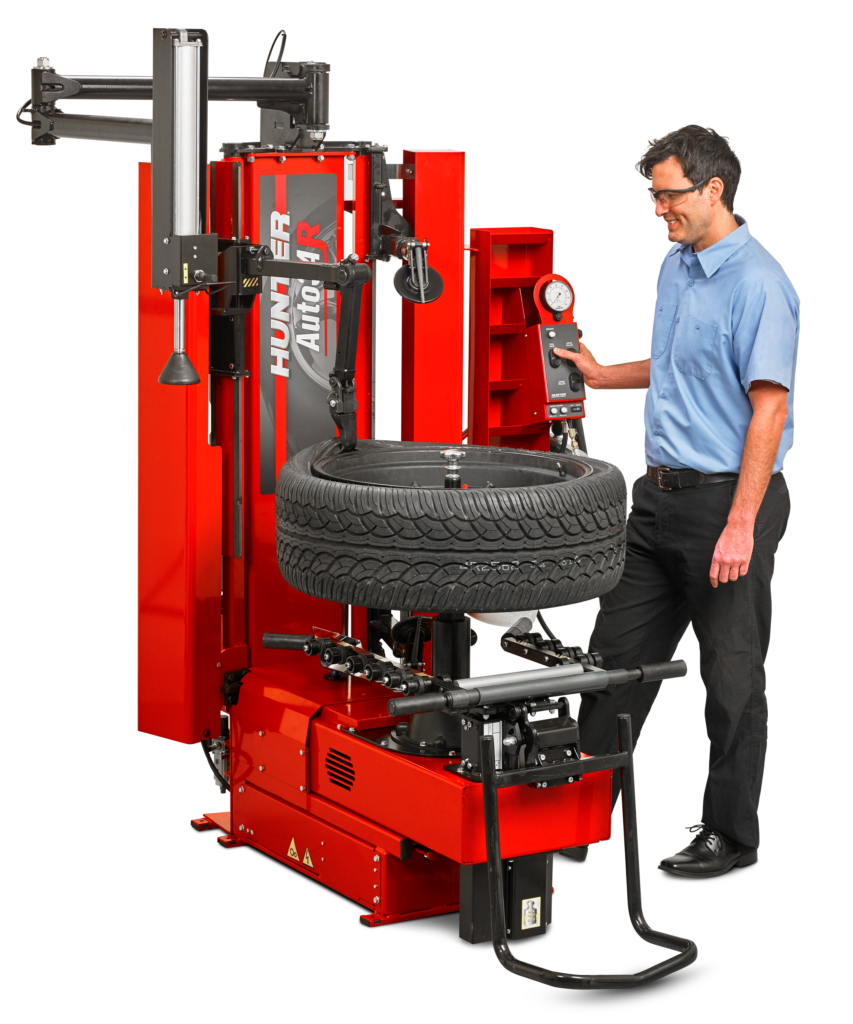 Hunter's Auto 34R center clamp tire mounting machine automatically accommodates almost all assemblies and rim sizes. Its advanced telescoping chassis significantly reduces any risk of wheel damage. It also has a 15% smaller footprint than previous versions and a smaller swing radius on its arm.
There are no pry bars or levers on the Auto 34R, and its flat-back design eliminates the hassle of dealing with awkward cables. This tire changer also features an integrated wheel lift, automatic adjusting rollers, a polymer-based tool head, simple-to-use push-button controls, and a high-volume vertical blast tank. It's a perfect addition to any mid- to high-volume repair shop.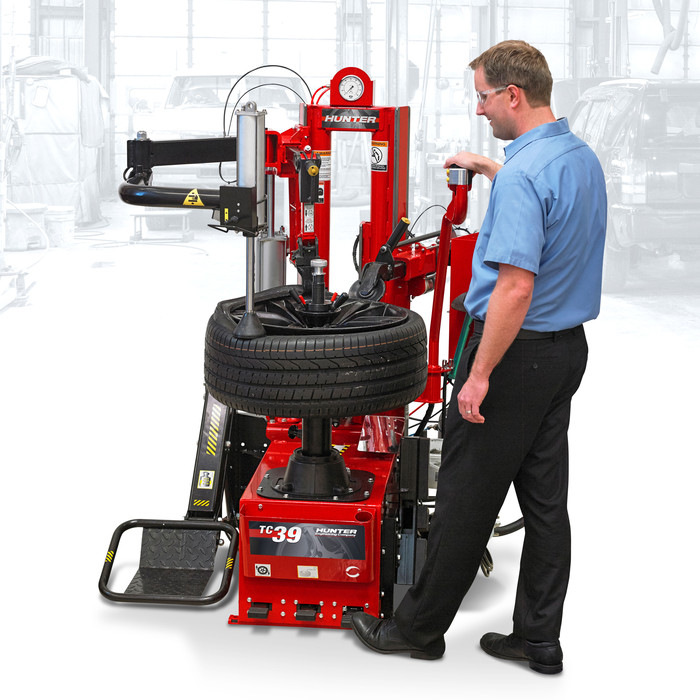 TC39
The Hunter TC39 is a center-post tire mounting machine that can handle 10- to 26-inch rims. It features a leverless polymer head, two separate roller arms, and manual indentation technology. The TC39 can be fitted with an optional side shovel and wheel lift to make operation faster, safer, and easier.
TCX51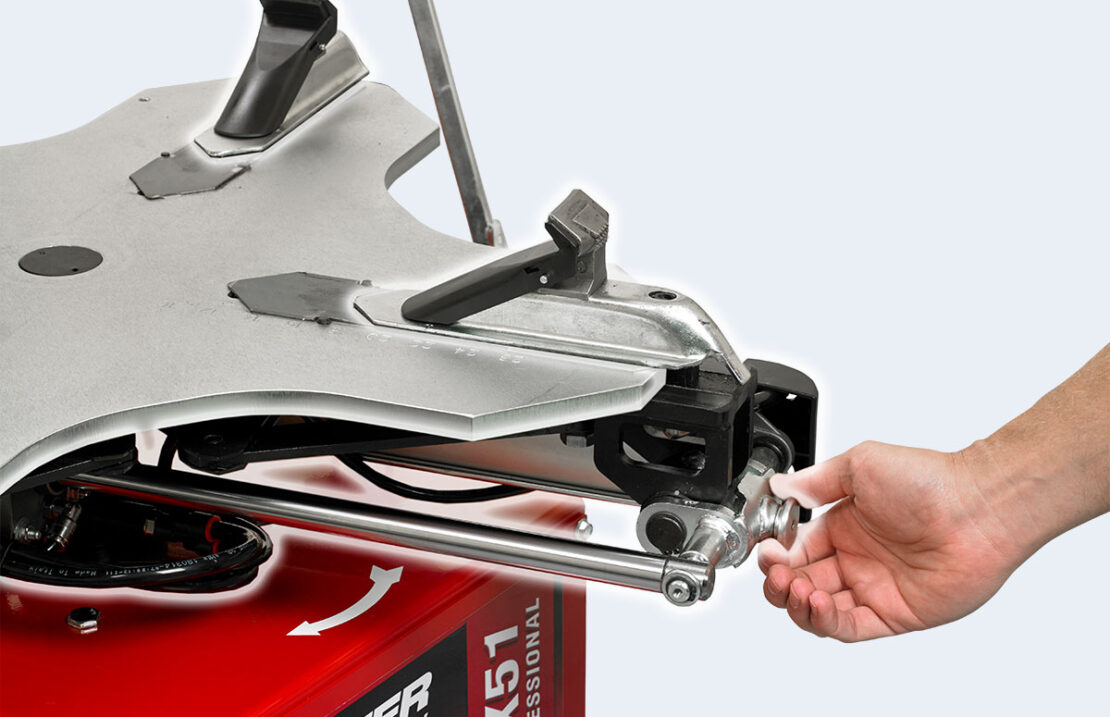 The 220V Hunter TCX51 tabletop tire changer accommodates tires between 44 and 46 inches. It has two power settings, a conventional mount head, and a manual swing arm supported by a rigid, heavy-duty chassis. It also features an advanced PowerOut™ bead press shovel system equipped with a lockable lower demounting disc and comes stock with Hunter's FastBlast™ inflation system. 
TCX58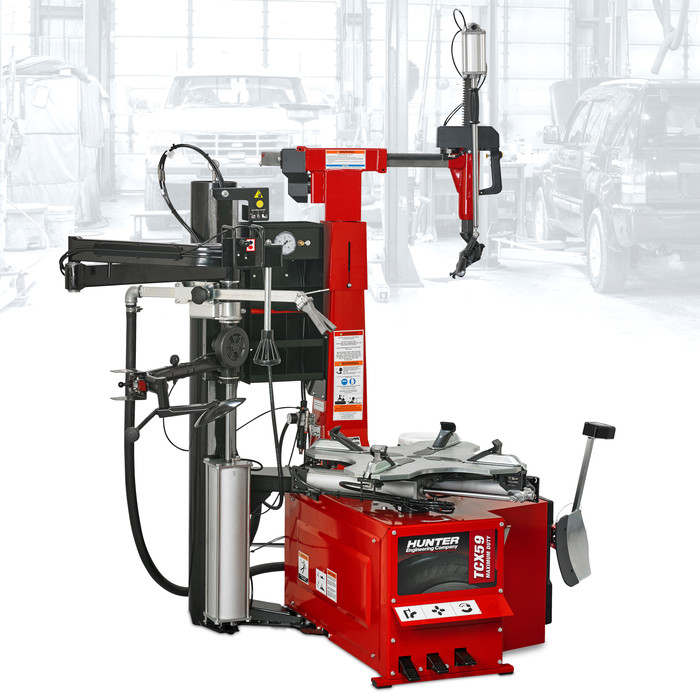 The TCX58 is Hunter's best-selling tabletop changer. It accommodates wheels between 10 and 26 inches and is designed for SUVs and mid-sized to large pickup trucks. The TCX58 comes standard with the top-side FastBlast™ inflation system, which makes operation simpler and safer for your technicians. This tire changer also features 220V two-speed power, an automatic swing arm, external clamping, and a heavyweight chassis. Plus, it features the PowerOut™ bead breaker with a lockable lower demounting disk.
TCX635HD
The TCX635 heavy-duty tire changing machine is safer for technicians, features easy-to-use controls, and is the fastest Hunter HD model available. It's been upgraded with 30% more torque, 18% faster rotation, and a tilting roller assembly that makes mounting and unmounting extra-large commercial vehicle tires and wheels speedy and simple—and it's nearly 100% hands-off for operators.
It can handle tires up to 58 inches in diameter and 27 inches wide, rims up to 26 inches, and weight up to 1,168 pounds. This machine is equipped with a drop roller mechanism that makes bead breaking hands-free and effortless for techs. It's also ergonomically designed to keep large assemblies close to the ground, and it accommodates tubed tires, sharp-edged rims, and other tricky assemblies.
Find the Best Tire Changer With Help From Allied
Allied Equipment is proud to be a trusted supplier of Hunter tire changers and other high-quality automotive equipment. If you're searching for the best tire changer for your unique needs and budget, contact our helpful team today for assistance. Our experts can help you save money and grow your operations.