Selecting the Best Wheel Balancer for Your Auto Shop
When selecting wheel balancers for your shop, you need to know your customer base. If you only handle passenger vehicles, you likely don't need a balancer that handles large truck tires. However, if you plan to expand or currently service large trucks, you'll need a balancer that handles those big tires.
Beyond knowing your customer base and future expansion plans, you must consider a few additional factors. In this blog post, we'll cover those factors and provide recommendations for some of our favorite wheel balancers.
Know Your Budget
One primary factor to consider is your budget. Wheel balancers vary in pricing based on the brand name, type (dynamic, bubble, static, etc.), and features. While dynamic wheel balancers are usually more expensive, they can detect and correct the balance as if the wheel is a flat disc and on the axial dimension.
Although your budget is important, don't skip out on a wheel balancer that meets your requirements (and satisfies future expansion requirements) if it's more expensive. Focus first on the requirements you need for the wheel balancer, and then try to find a wheel balancer within your budget range that meets these requirements.
Understand Capacity Requirements
With the number of wheel balancers on the market, it can be difficult to choose the right one. At the bare minimum, you need to purchase one that can safely and effectively hold the wheels you'll be servicing. If you know you will service heavy-duty trucks later or already do it, choose a wheel balancer that can handle larger tires. Likewise, if you do not plan on servicing larger vehicles in the future, purchase one designed for light-duty vehicles.
Consider Training Requirements & Ease of Use
You also don't want to purchase a wheel balancer that is too complex or makes reading results difficult. Choose a wheel balancer with an intuitive interface that displays easy-to-read results. Although you need to train employees on any new shop equipment, selecting a balancer that doesn't require lengthy training sessions will save time.
Research Maintenance Needs
Also, consider the maintenance needs, especially recalibration, which could put the wheel balancer out of commission for some time. If you don't service many tires, longer recalibration times won't be as big of a problem. Remember—focus on your shop's needs. How much time can you invest in maintenance?
Examine Accuracy & Effectiveness
Wheel balancers that can measure road force tend to be more accurate. Road force is the amount of force a tire has while spinning with the vehicle's weight on top of it. Traditional tire balancing cannot measure road force, so even if a tire is balanced properly, it may still have vibrations. In most cases, newer tires with less sidewall have a problem with balancing for road force.
Generally, you'll want to look for wheel balancers that offer easy-to-read digital displays to prevent potential reading errors, automated data input capabilities, self-calibration routines, touchless measurement, and automatic weight placement. Choosing a wheel balancer with multiple balancing modes like static and dynamic is also essential for shops that service a wide variety of vehicles because it allows you to custom-tailor the machine to meet specific requirements for each set of tires.
Manufacturer's General Reliability & Reputation
With wheel balancers, you are not just paying for the brand— you are paying for reliability and reputation, as not all wheel balancers are manufactured the same. Cheaper brands may not use quality materials, causing the machine to fail prematurely. Additionally, reliability and reputation also point to accuracy. If you've ever taken your car to have the tires balanced and found that the shop couldn't get the tires to balance and the tires are not defective, it's most likely a cheap wheel balancer, or it needs calibration.
Research brand names and look into what other shop owners say about them. Even if you're working with a smaller budget, you'll save more money in the long run when you invest in a quality product that will last longer.
The Wheel Balancers We Recommend
At Allied, we recommend Hunter wheel balancers because the brand is known for their quality, reliability, and accuracy. Hunter has models for all types of automotive shops and budgets. The three Hunter wheel balancers we recommend are:
Road Force® Elite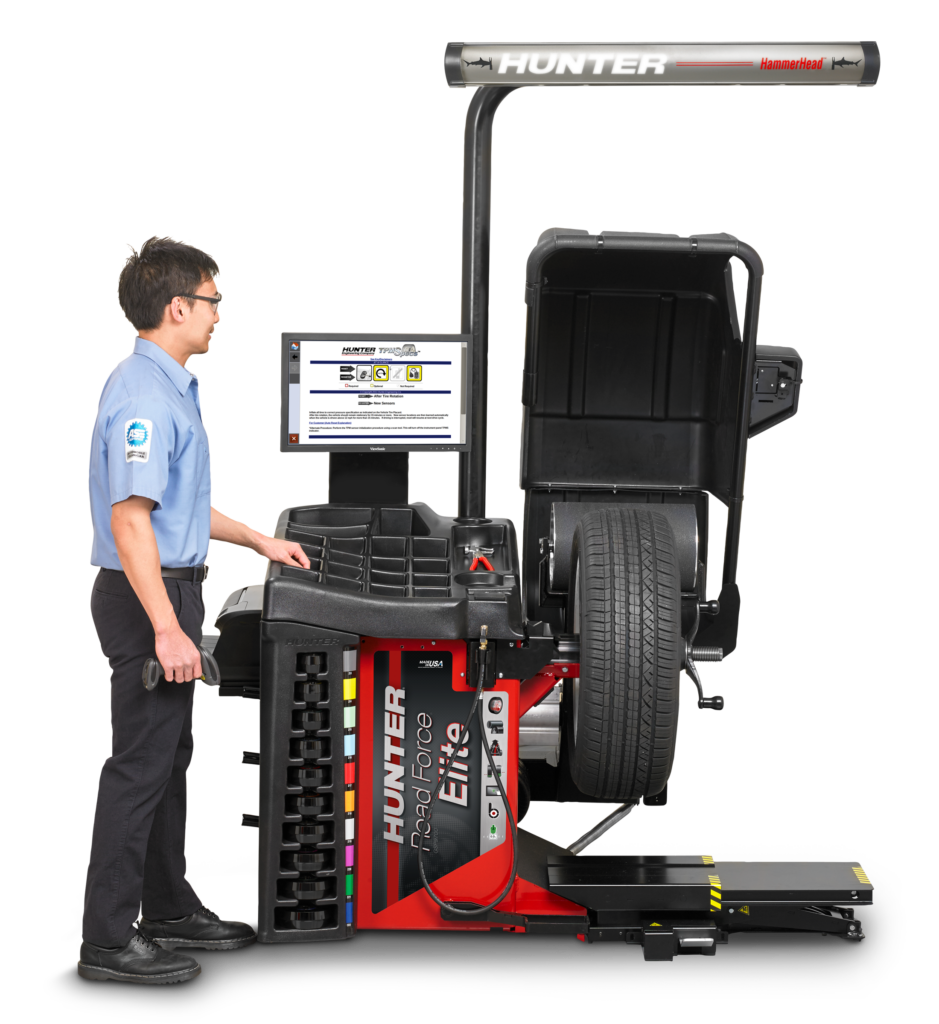 The Road Force® Elite automatically measures wheel dimensions with its patented vision system, allowing faster balancing. Additional features include CenteringCheck® for proper centering and weight location identification anywhere on the wheel.
This model also features the TPMSpecs® onboard vehicle database, Hunter's patented eCal auto-calibration, and HunterNet® online portal to track ROI, results, and revenue.
It fits rims from 1.5 to 20.5 inches wide and 10 to 30 inches in diameter. Depending on the model, the unit's width ranges from 57 to 72 inches, height from 70 to 89 inches, and is 63 inches deep.
SmartWeight® Elite
The SmartWeight® Elite makes balancing tires easy, as it automatically measures wheel dimensions, features accurate wheel centering and diagnostic lasers, and allows weight locations anywhere on the wheel. With this Hunter wheel balancer, you only have to mount the tire, spin it, balance it with the machine, and remove it.
This wheel balancer also features a one-touch rim dimension display, allowing technicians to toggle single-weight solutions. Onboard videos help with training, and you can switch text language with one press of a button. Additional features include a Wheel Lift, SpeedClamp®, TDC laser, and printer and shelf. There are a few models, so the footprint is from 57 to 72 inches wide, 71 to 88.5 inches high, and 63.5 inches deep.
SmartWeight® Pro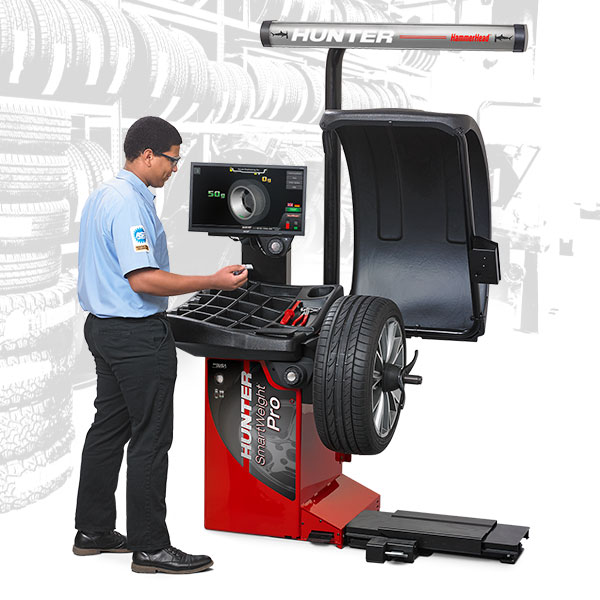 The SmartWeight® Pro features the same benefits as the Elite, but takes it up a notch with single-knob navigation, dial-in exact weight placement, HunterNet® 2 connectivity, the TPMSpecs® onboard vehicle database, CenteringCheck®, and a space-saving design.
It ranges from 42 to 60.5 inches wide, 61 to 85 inches high, and 28 to 32.75 inches deep.
Get Help From Allied, Inc.
Do you need help selecting wheel balancers? Talk to our experts at Allied, Inc. We're a trusted distributor of Hunter wheel balancers and other automotive shop equipment, including lifts and air compressors. We also install wheel balancers in automotive shops throughout Michigan. Please contact us today if you have questions about our recommended wheel balancers or want to request a quote.